The Person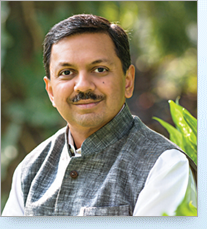 Gaurav Mashruwala
Certified Financial Planner and Practitioner, Gaurav Mashruwala, has a Master's in Marketing Management from Jamnalal Bajaj Institute of Management Studies (JBIMS) after completing his graduation in commerce from Mumbai University. He also acquired a certification in Personal Finance (JBIMS) and one in Capital Market (jointly offered by Mumbai University, JBIMS and Bombay Stock Exchange).
As part of his mission to promote awareness on issues pertaining to personal finance, he regularly writes in various leading English, Gujarati and Hindi publications and shares his views as a guest/host on popular English, Hindi and Gujarati TV channels. He is often invited to speak at lectures and conduct workshops on Personal Financial Planning and Wealth Management.
His professional experience over the past two decades, coupled with his affinity for Yogic philosophy, has made him realize that most issues related to finance and wealth stem from latent emotions of fear, insecurity, anxiety, desire, greed, jealousy, etc. He accedes that unless individuals recognize these emotions, no amount of wealth can deliver financial freedom to them. Accordingly, he uses the behavioral finance and life planning route to facilitating the achievement of financial freedom
Gaurav recounts the ancient principles that lead to enjoyment of wealth in his book 'Yogic Wealth - The wealth that gives bliss' (2016), and explains therein how they are relevant even today.
As a writer, he has also authored the book Essential Guide to Carefree Retirement (2006), which explains how retirement planning can be done at different ages and stages of life. He was the Consulting Editor for Layman's Guide To Wealth Creation, a pocket book by Outlook Money.